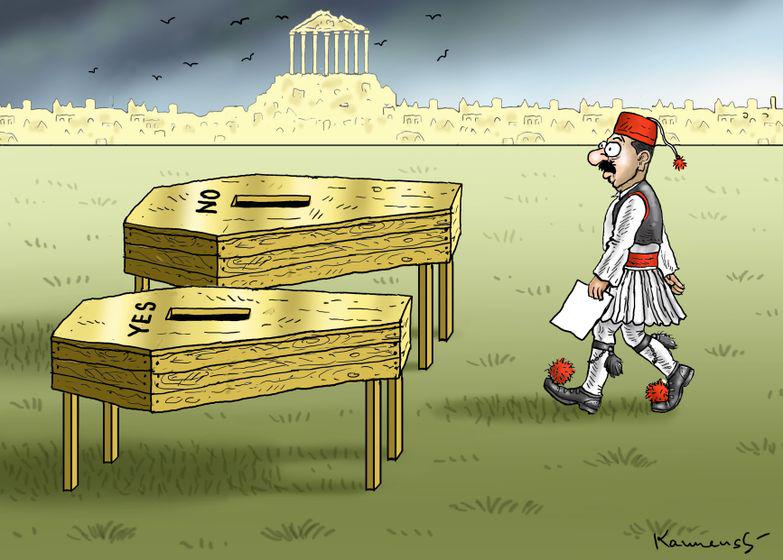 These last few days must be the worst I have had the misfortune to live through since I came into this world forty-one years ago, and that's not because Greece is heading towards total economic collapse. It's because the small modicum of democracy we had in this country since six months after I was born has collapsed, with no hope of revival in the immediate future.
There's a tragic irony to the fact that the nail in the coffin of democracy came from what should have been the ultimate democratic act: a call for a referendum. Of course, a referendum announced at nine days' notice about an offer that doesn't stand is a farce in and of itself, and when the deputy prime minister states on public television that the announcement was merely a negotiating tool, it only adds insult to injury. But in the wider context, this is only one aspect of the political tragedy Greece is living through. Every pretence at respecting the role of institutions in this country has flown out of the window since Friday night, both on the 'yes' and the 'no' side of the argument. The best example of this is obviously Greece's oligarch-owned media, that have unleashed an unprecedented campaign of fear and hammer their audience with images of angry citizens forming lines at ATMs while 'yes' politicians are given a tribune to repeat ad nauseam how the government is seeking to take us out of the Euro and back to the Middle Ages. Meanwhile, in a feeble attempt at countering what can only be described as shameless propaganda from Greece's socio-economic elites, the government have set up a website to inform the people about the referendum, and that website conveniently ignores any argument in favour of voting 'yes'. What makes it particularly bitter for me is that I voted for SYRIZA in the belief that they would seek to restore a functioning democracy. Clearly, I was wrong.
And as if this weren't bad enough, it seems that everyone, inside Greece and abroad, cares solely about who is to blame for all this, and not one little bit about what will actually happen to Greece and its people. And I am not talking about what will happen when the economy collapses – for all practical purposes, it had already collapsed way before the capital controls were put in place. I'm talking about what will happen now that the question put to the Greeks has become, very simply, do you want a quick and violent death, or a slow and painful one. These are the choices the referendum has to offer, these are the choices democracy in Greece in 2015 has to offer. How does a country, a people, a society recover from that? How do you recover, not from the answer, but from the question itself?
To those who are seeking to apportion blame, I have one thing to say: you're either too early or too late.
You're too early because, let's be frank, no one can claim to know with certainty what the real consequences of a 'yes' or a 'no' vote will be. Whatever the result, the least that can be said is that the relationship between Greece and the European Union has been reshaped in ways that will take years to understand. Maybe 'no' means a Greek exit from the Eurozone, or maybe it doesn't; maybe a return to the drachma is a bad thing, or maybe it's not. At the same time, maybe 'yes' means more austerity of the kind we were subjected to for the past five years already, or maybe it means a new brand of austerity; maybe this new brand will be harsher, or maybe it will be more lenient – one can always hope. But if you claim to have straight answers to these questions, one thing is certain: you're lying. This is uncharted territory, so please show a little humility. You don't know, and neither do I.
Alternatively, if you're apportioning blame with regard to the process that led us too this mess, you're late, far too late. You're late because this process has been going on for years, and a ten-year-old with half a brain could have told you that it's a process gone wrong. A ten-year-old with half a brain could have told you that the Greek economy and the political system propping it up were rotten, a ten-year-old with half a brain could have told you that the bailout programmes were a failure, a ten-year-old with half a brain could have told you that the current, SYRIZA-led government was not speaking the same language as its negotiation counterparts, and, most importantly, a ten-year-old with half a brain could have told you that the shit would hit the fan at some point. Since 2010 we've been witnessing a slow-motion train wreck. You're terribly, terribly late if you start apportioning blame the moment the locomotive gathers full speed.
So where does this leave us? What should we vote? Are there good reasons to vote 'yes'? Are there good reasons to vote 'no'? Are there even good reasons to vote at all? Here's the thing: there are no good or bad reasons when you can only choose between bad options. What there is are real reasons, and here's mine.
There's a Greek expression I've used a lot these past few months: "είναι κακοί, στραβοί, ανάποδοι, αλλά…" which means "they're evil, crooked, irksome, but…" This is what I have to say about the current Greek government. They may be evil, crooked and irksome, they may have failed spectacularly on the financial/economic as well as the political front, they may be the worst government we ever had, for all it matters – but they're our government, and in the end they will be accountable to us.
For the past several years, far too many decisions that have affected our lives in dramatic ways were taken by people who are sitting in Brussels, in Frankfurt, in Berlin and in Washington – far too many, because this robs us of our sense of agency as people and as citizens. These people will never be accountable to us because they are so far out of our reach. Well, let someone else deal with them. We can deal with those who are here.
So I want out. I want out of the Eurozone and I want out of the European Union. I'll be voting 'no' because anything that can possibly, maybe, hopefully take us one step closer to Euro-exit is good enough for me under the current circumstances. I've had enough of these unnamed high-ranking European officials who tell the Financial Times how they're taking decisions for me and how they want 'regime change' in Greece. At least, if all I have to deal with is my own government, I can take decisions for them too.
If you ever met me, or if you even only read other bits and pieces I've posted on this blog or on Twitter, you'll know that by my standards, this is an intellectual short-circuit. It is. It's not a good reason to vote no, but I don't care. To hell with it. That's my reason. What's yours?